Hello Friends,
First off we would like to thank all of you who offered your support in finances and in prayer. We really appreciate it and needed your help in those areas! Please continue to pray for us as the Lord leads you!
The following is written By Penny and Randy and it is sort of mixed together, it may be hard to tell who is writing what at times!
Randy and I just got back from a trip to Poland where

we

participated in ministry to the Polish People with Michelle Lewandowski. She and her husband, David have a ministry called, Christ for Poland, (www.christforpoland.com) and they reside there in Poland with their three boys.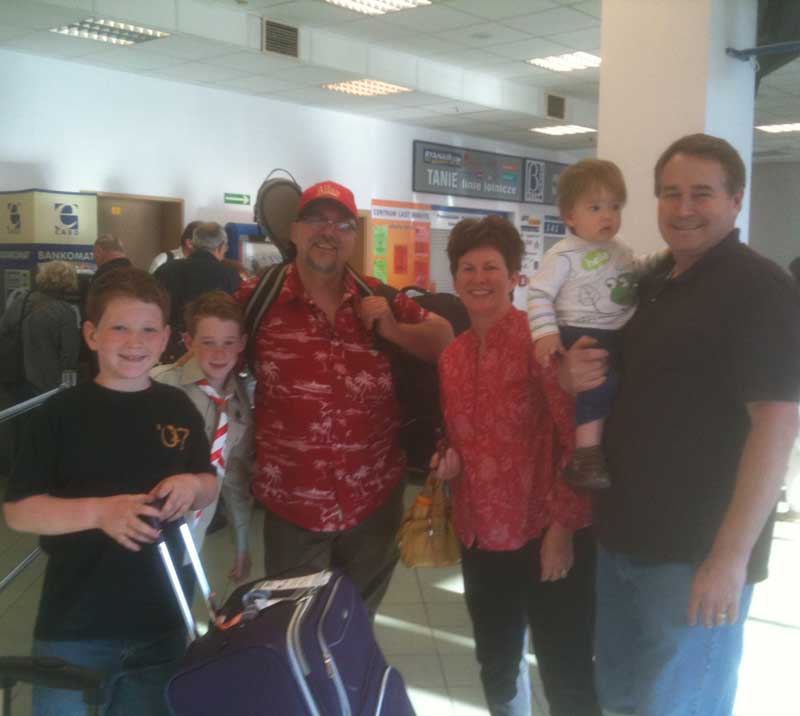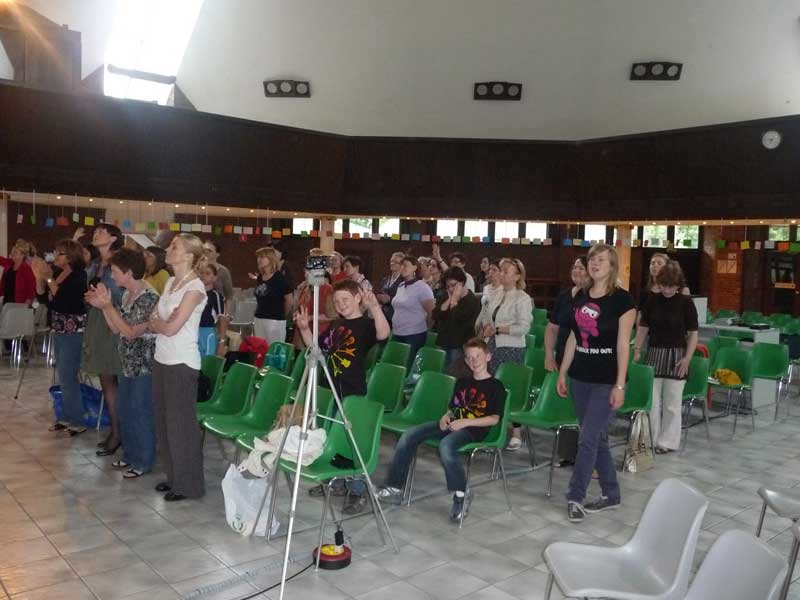 Next we traveled up north to the beautiful city of Gdansk. We did another women's conference there in a very old and beautiful church. I sang the songs that the Lord chose to sing to them and many women heard for the first time that God saw them as a beautiful flower and was in love with them! We can't hear that enough in my humble opinion! Other songs were just as intimate and so it was quite ministering also to me, as always! In two other neighboring cities we did two more meetings.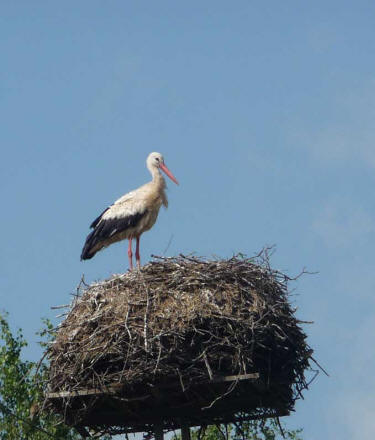 I never new storks were native in Poland. We saw quite a few. The nest you see is about 6' around.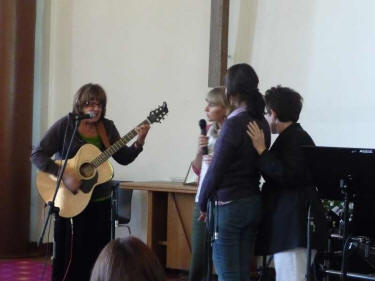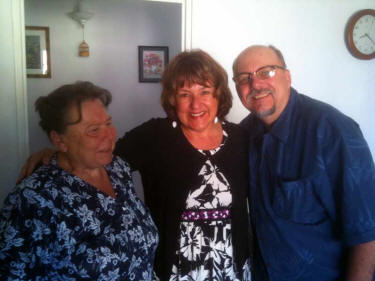 Here we stayed with our wonderful host Lydia. She made us feel so welcome and we were honored to be in her home. Thank you for blessing us with your gift of hospitality!! Lydia's father had been the pastor of the church at Gdansk. Dziękuję! Dziękuję! Dziękuję!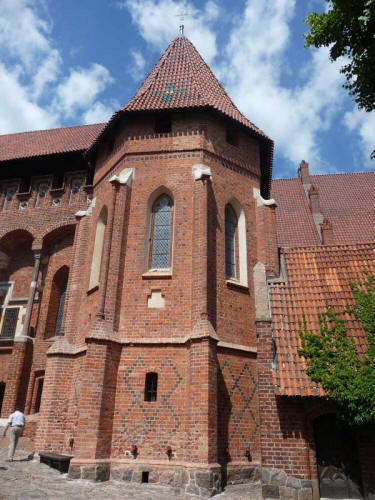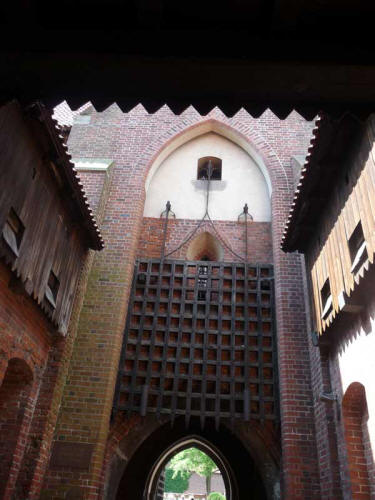 Then we went to a city called Elblong and in the middle of the city is a restored warehouse which is their church. The Lord gave a corporate song for the women there that was very powerful. I saw, in the Spirit, three heavy cement blocks and a heavy metal blanket over the women. I believe it signified the legalism they are under in a religion that is prevalent there. Many women again were set free, prayed for and went away blessed.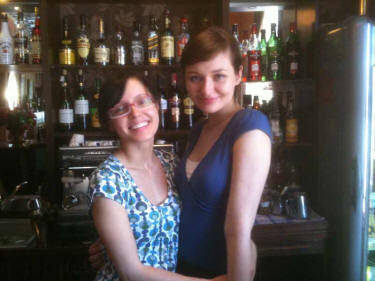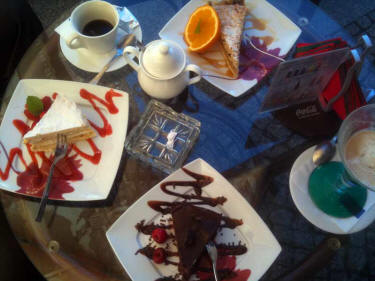 Coffee and just a little desert! I made the mistake of asking if there was maybe a little coffee cake. I think something got lost in the translation! Oh well, I guess that happens sometimes!! LOL!!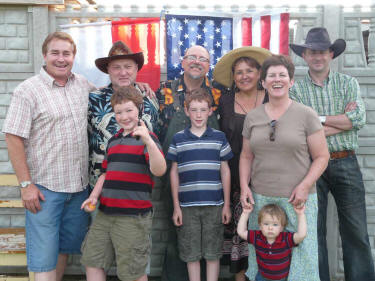 left to right Pastor David Lewandowski, Pastor Anjay, Randy Allen, Penny Allen, Michelle Lewandowski, Pastor Anjay, and the boys. Spending time with these pastors reminded me of what Jesus said "by this all men will know you are my disciples, if you love one another" John 13:35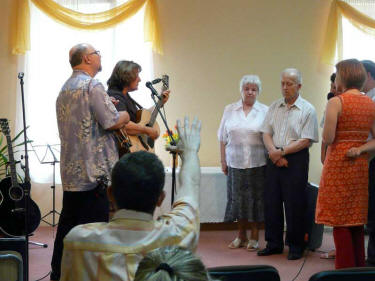 Michelle Lewandowski taught sunday morning and did an awesome job as usual sharing the message of Gods love towards us. Pastor Anjay translated. My new friend Paul (next to me in the photo on the right translated the early part of the service to Penny & I. What a neat brother in the lord he is!! The Lord touched his people through prophetic music and songs.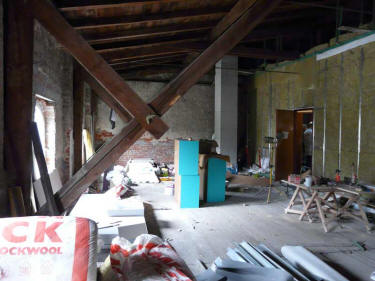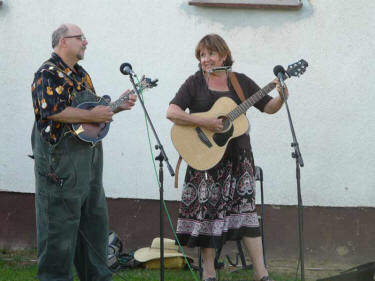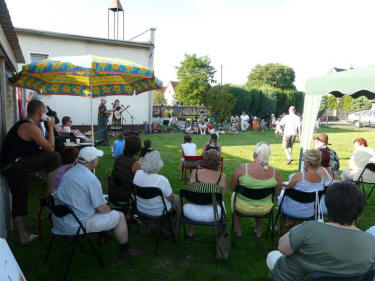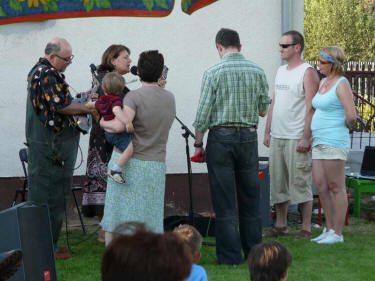 This was something new where we were able to mix bluegrass, folk and ministry, songs of the Lord for his kids all in the same event. What a blast! We are so thankful we had translators!! Dziękuję! Dziękuję! Dziękuję!
Then as we traveled south again, we came full circle back to Wroclaw where every Thursday night their church feeds the homeless. It was Thursday night so Randy joined me as we gave them a bluegrass concert. I also sang prophetic songs over quite a few of them. Their stories would break your heart as they did ours. (sorry we don't have any photos of this)
One woman was in a violent household and was quite pregnant. She was crying because she had to give up her child because she couldn't bring her child into the violent household as she was afraid for her child. Another woman had to go to court so she wanted prayer that she would have favor with the court system. She had 4 children and looked like a child herself. There are no women shelters there, so there are no places to run to like in the U.S. They are precious people and many of them kissed my hand to thank me! I will never forget their faces and the looks in their eyes as they thanked me for the songs. I had to suck-it-up to not cry! Through an interrupter they said the song I gave them was true and they felt very touched. They also loved the song "Homegrown Tomatoes" that Randy always sings! Such joy! Randy and I gave a short testimony of our past including alcoholism, and I feel that that made them feel like they weren't the only ones who have made mistakes. I know I can speak for Randy when I say it was the highlight of our trip, ministering to those who can't give us anything at all. It is a privilege to be used of God that way and I know that He was very pleased.
This Poppy is the national flower! Similar to ours in California but bright red!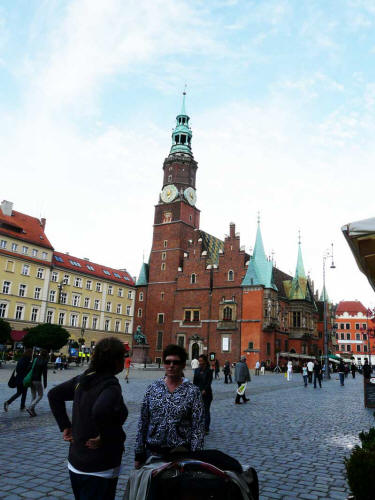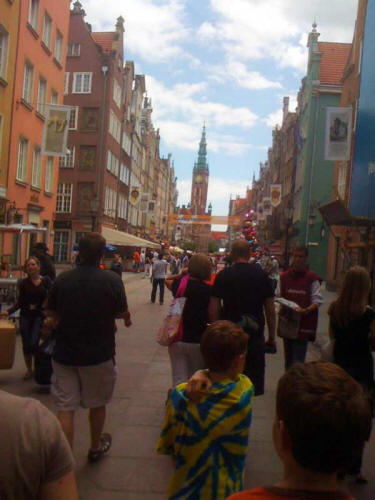 In Gdansk
Below are photos from our visit at Auschwitz - Birkenau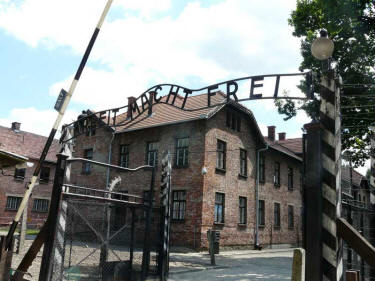 Main Gate translted "work brings freedom"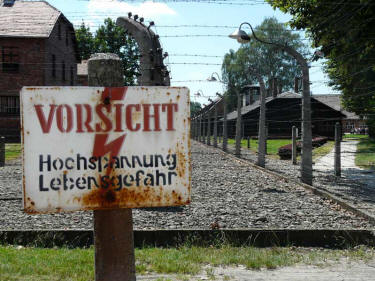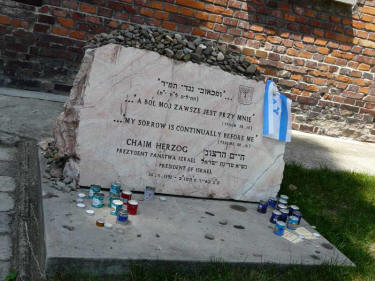 Nearby is probably one of the most beautiful cities in the world . Certainly the most beautiful I have ever seen!

I could have spent a week in Krakow.

Huge palace castle and cathedrals and a gorgeous square!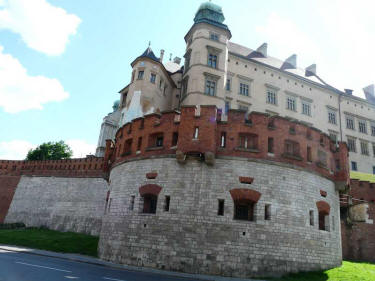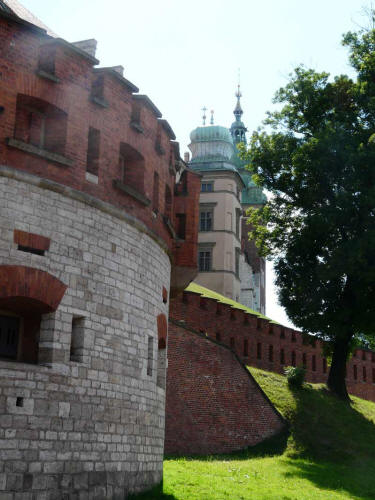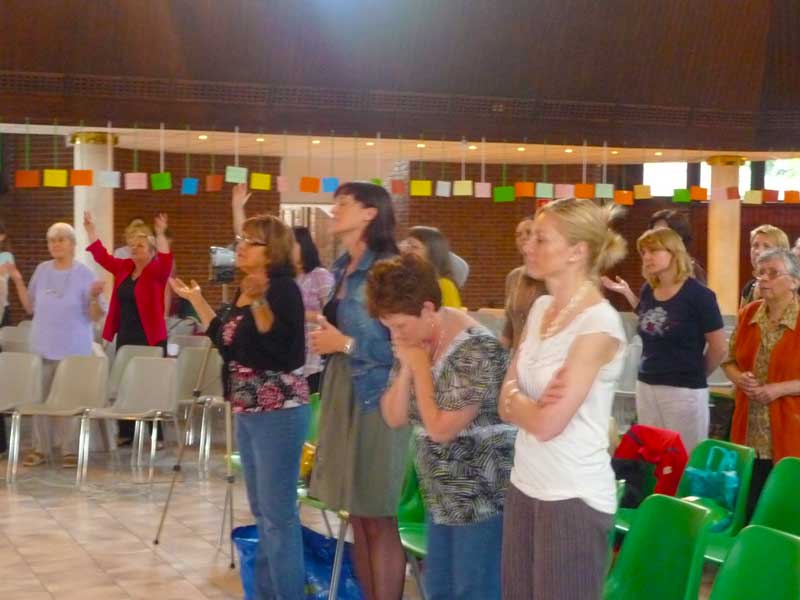 We started in the town of Wroclaw and did a women's conference there. I sang prophetic songs over the women there after Michelle preached. My husband Randy helped with worship by playing his mandolin. Everyone who hears him says he is anointed! Bartosz Bobel is also a fine musician and worship leader there and the music was heavenly!! Also there was a great drummer and I am sorry but I can't remember his name. The women were blessed and it was a great start for me, kicking off our stay there in Poland.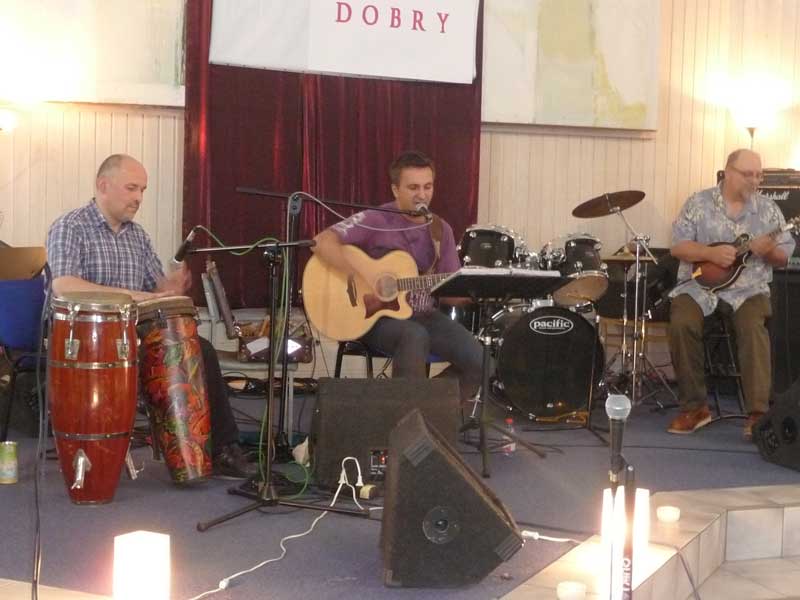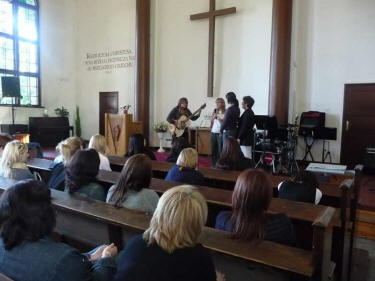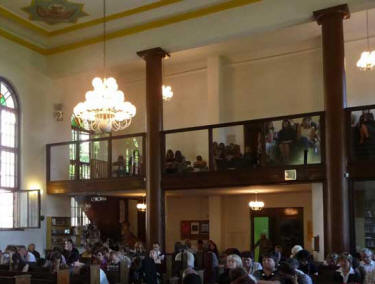 One meeting had about 60 women there. When they found out Michelle was preaching the room kept filling up with women! It was like the unending line of women coming in!! (LOL!) The dessert table looked luscious but we didn't get the time to eat any, as we were busy for many hours, praying for the women who came hungry to receive a touch from the Lord. I called several women up for a song of the Lord. Most of them had never seen the prophetic gift

operating in that way before and I had so much joy in doing it….that's how God is! He blesses the giver and the receiver!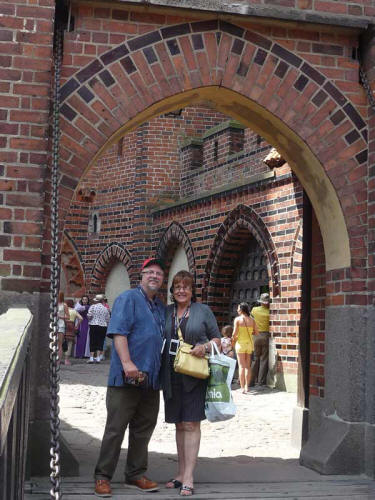 Here are a few photos of Mallbork Castle. An amazing place! Art! Architecture & History!
Penny & I & our special buddy David Jr.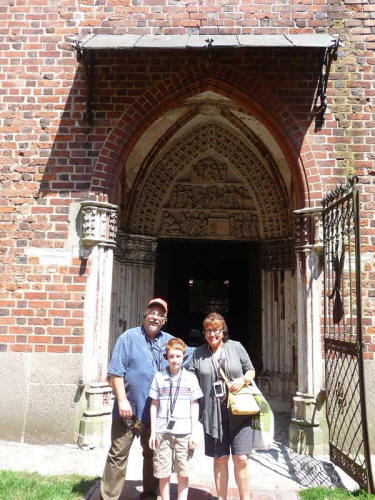 I also sang songs over people in public establishments…two young girls in a coffee shop and a shop worker in Gdansk All I did was ask! The Holy Spirit arranges it and He tells me who and when because in John 14:26 it says the "Holy Spirit will tell you all things." We need to rely on Him and I myself am always learning how to hear His voice. I make it sort of a vocation to hear the voice of God, the voice of the Holy Spirit! He is no respecter of persons! If you are in Christ Jesus (John 14:16~17) you have the same privilege as me! I want to live the rest of my life encouraging others to hear from God because He has a lot to say to us. Instead of running to books or people, I try to run to God first because He said, "The Counselor, the Holy Spirit whom the Father will send in my name, will teach you all things and will remind you of everything I have said to you." John 14:26.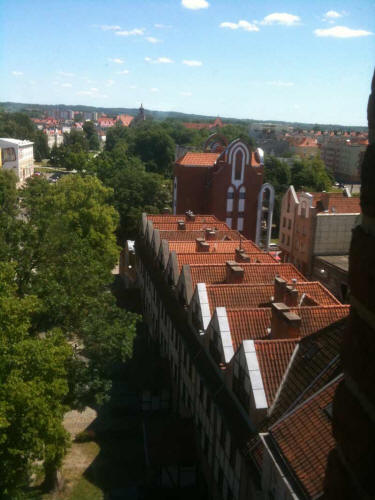 Randy here....This is a photo of the town of Elblong. This is from the tower that held the gate to the city. Legend is that a young baker boy was up early baking bread and heard the enemy coming and dropped the gate, saving the city. Papa gave Penny and I a special time to sit up here and pray for this town. I really enjoyed the couple of days we got to stay here!
..Randy here... Out of hundreds of photos, this is one of my favorites, probably because this image was etched into my mind on the trip. The miracle of this image really hit me more after we came back home. The people of Poland had lost much of their leadership and their president in a tragic plane crash earlier in the year. This was the day they were voting for a new president. It was also our 4th of July. I felt so honored by the pastor of this church, somehow he found an American flag and put the two of our flags together. Growing up in a generation and era of the cold war; it just hit me that what a miracle this was.. that we could be together to worship...that we both live in free countries...and I was reminded that when I was born this is not a picture that could have been taken!!!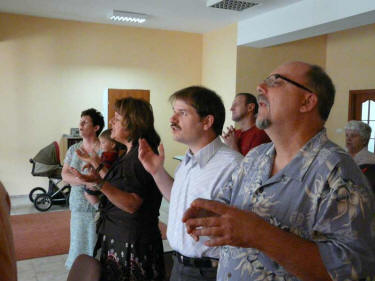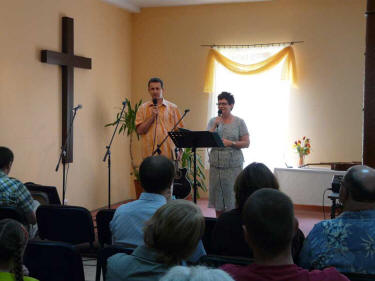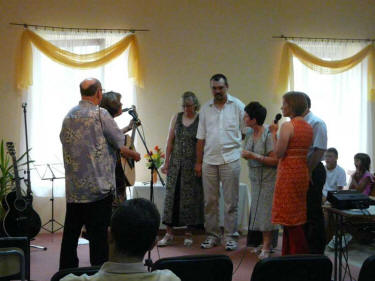 The two photos below are of the church and show a little before and after. The Lord gave Pastor Anjay vision and faith for this building. (It seems vision and faith always come before the means, usually the last to come is the finances!) In a semi private conversation after service; Pastor Anjay was in tears of gratitude speaking to David Lewandowski for his help with getting the project together. (I don't really know any more details, but this is some of the work that David and Michelle are doing in Poland.)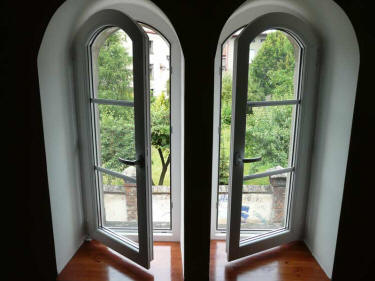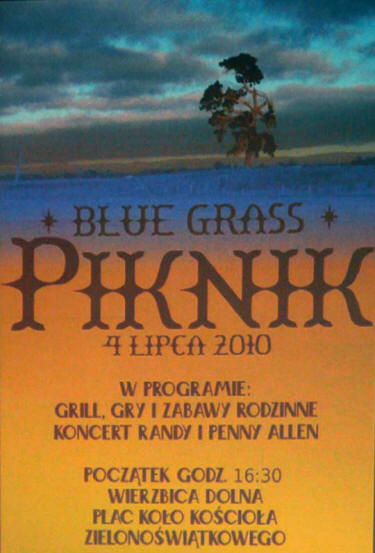 My new friend Jagucsh, Instant hot mandolin player!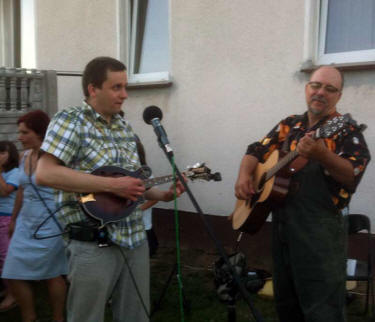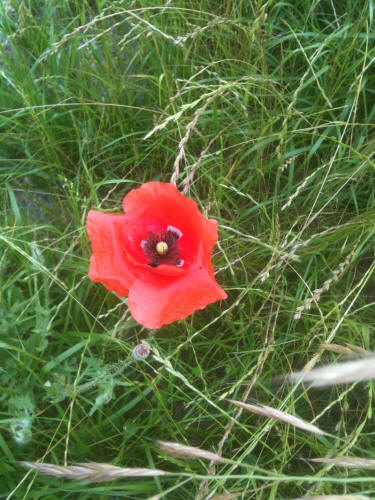 Left: This is downtown Wroclaw (pronounced vrotswav)

Cobblestone streets everywhere even in allot of new construction areas. I can't tell you how many sidewalks I saw made by hand with 2" square granite blocks and they are absolutely beautiful!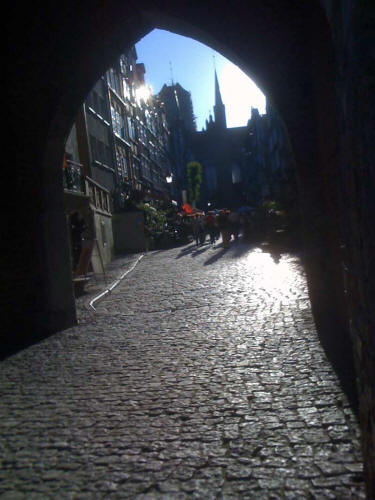 In Gdansk
Below are photos from our visit at Auschwitz - Birkenau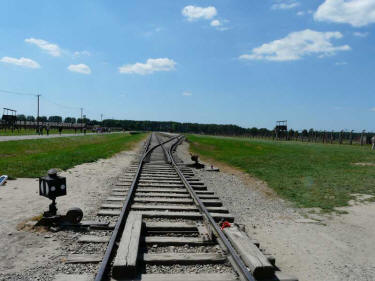 The train tracks that brought masses to their end at Birkenau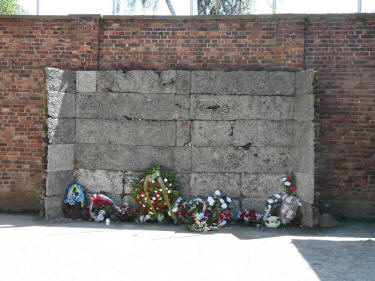 This is known as the Execution Wall.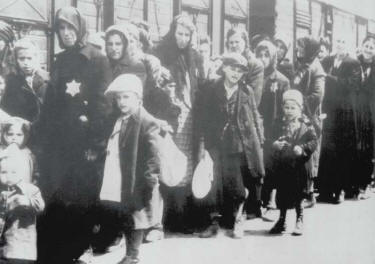 We just saw the Diary of Anne Frank and realized that after two years of hiding, near the end of the war, she and her family died in this camp.
This is a hard thing to see but I think it is important to remember.